In 1987, I was licensed to sell insurance in the State of Nevada. My first primary product we sold was automobile (car) insurance. It's how my career in the insurance business started.
Today, we (Ardent Insurance Inc) are 12 days away from our 16th year anniversary. Thinking of this date made me research the first automobile insurance policy.
It turns out that one of the Independent Insurance Agency markets we offer, Travelers Insurance is generally recognized in the industry as the first Insurance Company to offer automobile insurance.
In the State of Nevada, automobile/car insurance is required when you register a vehicle with the department of motor vehicles. The concept is financial responsibility.
The minimum amount of bodily injury coverage required to meet Nevada's financial responsibility laws is 25,000 per person, $50,000 for all persons, and $20,000 for property damage per crash. Note: most policies that are sold in Nevada are 25/50/25. Twenty thousand in property damage is a low threshold of coverage, so most carriers encourage (provide discounts) to bump up $20,000 in property damage to $25,000.
Insurance is defined as a contract, which is called a policy, in which an individual receives financial protection and reimbursement of damages from the insurer or the insurance company. Basically, it is some form of protection from possible financial losses. Automobile insurance covers the bodily injury of the driver and passengers. It can also be expanded to cover other medical and liability protections. Physical damage of the vehicle is also a offered coverage on most automobile insurance policies.
The below reprint of the Travelers first automobile insurance policy was created to alleviate the financial pressure on a automobile owner to "self" insure all the perils covered in an standard automobile insurance contract.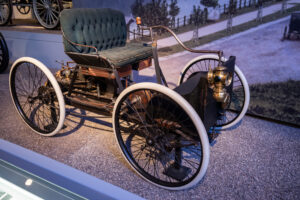 While many sites claim the first policy was sold in NY, Travelers says it was actually in Massachusetts…
Source: Book and website entitled Early American Automobiles.
This Friday, October 20th, celebrates the  anniversary of the sale of the first auto insurance policy. While many sites make the claim that the first auto insurance policy was sold in February to a gentleman in Ohio, it appears that the first policy was actually sold a few months earlier to a man in Westfield, Massachusetts.
According to a press release from Travelers celebrating the 100th anniversary of the auto insurance policy, on October 20, 1897, Gilbert J. Loomis of Westfield, Massachusetts bought the first auto insurance policy to insure a car that he had built himself.
It was a century ago, in 1897, that the Hartford-based Travelers issued the first auto policy.  The policy was purchased by Gilbert J. Loomis of  Westfield, Mass., an early auto pioneer who built the car he insured.  Shortly thereafter, a policy dated Feb. 1, 1898 was issued to Dr. Truman J. Martin of Buffalo, N.Y.  Martin was a physician who used his car to visit patients.
We thought it might be interesting to reprint the rest of the actual press release from Travelers (removing the details about the 100th anniversary event) which goes into the history of the first company to sell auto insurance as well as about the first auto insurance policy. More importantly, it also shows another first for Massachusetts! Enjoy…
The first automobile insurance policy was written 100 years ago by Travelers — and that's no accident.
Travelers — founded in 1864 in Hartford, Conn. — was already writing a variety of insurance policies at the end of the 19th century including liability coverage for the horse and carriage.
At that time, industrial New England was a hotbed of early auto innovation — from the Duryea brothers of Springfield, Mass., who pioneered America's automobile manufacturing industry, to Col. Albert Pope of Hartford, whose Columbia Bicycle venture gave birth to the Columbia auto, then to the Pope Hartford automobile.
Who were the first policyholders?
Gilbert J. Loomis, of Westfield, Mass., was a mechanic and early auto pioneer.  Loomis actually built the vehicle he insured.  Loomis bought his first policy from Travelers in 1897 and remained a Travelers policyholder for more than 60 years.  The cost of his original policy was $7.50.  For this premium, Loomis purchased $1,000 in liability coverage.
Truman J. Martin of Buffalo, New York, had an auto policy from Travelers dated February 1, 1898.  Martin, a physician, wanted to use his car to visit his patients — the days of the house call — and worried about his potential liability should he have an accident.
Early automobile insurance polices from Travelers were adaptations of the "teams" liability policies written on horses and horse-drawn vehicles.  The word "auto" was substituted in place of "team."  It was not until 1905 that Travelers started selling liability policies with "automobile" printed on them.  Premiums at the time were based on the horsepower of the vehicle.
Auto insurance: Growth of an industry
The development and growth of auto insurance speaks to the emergence of the auto as the primary means of transportation in our society.  From the first policy, with its premium of $7.50, Travelers Property Casualty now has 1.5 million auto policies for individuals in force with total premiums of almost $2 billion.  In total, auto insurance is estimated as a $100 billion- plus enterprise in the United States today.
Travelers: A history of firsts
The first auto policy is only one of many firsts in the history of Travelers.  Here are only a few:
·         Starting with its founding in 1864, the company was the first to insure against accidents.
·         Travelers issued the first accident coverage for aircraft travel in 1919.
·         Travelers issued the first policy for space flight and lunar exploration, purchased for the Apollo II crew in 1969.
·         In 1997, Travelers Property Casualty recently announced another industry first: a policy designed to protect people from financial losses while engaged in on-line banking over the Internet…
SOURCE:  Travelers Property Casualty
The introduction of this post was written by: Kevin J. Brunson, Independent Personal Insurance Agent, with Ardent Insurance Inc (www.ardentinsurance.com).